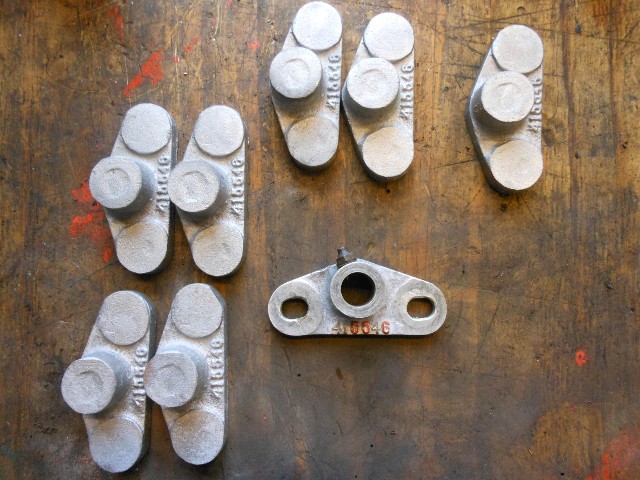 New castings. The original boss was used to create a pattern by improving things like the casting numbers.
Peter Quick at www.bsaunitsingles.com has 4 complete brake backplates with "floating" boss at $440 -
not cheap but available!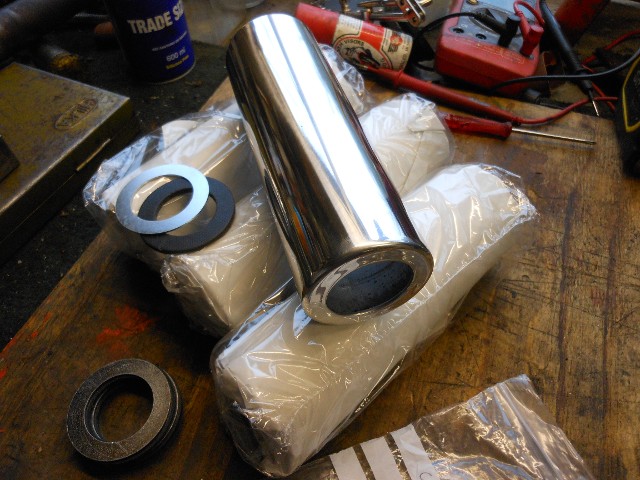 Ordered on 10th December, arrived 18th December cost (for two sets) $237.10 plus £22 U.K. import duty 6 3/4" long 2 1/4 o.d. 67 thou thick
ALUMINIUM FORK SHROUDS FOR THE GP - available on ebay

Oil pipe protector - coming soon (Nov 2017)
I HAVE HAD SIX AIRBOXES AND 10 SEATS MADE TO BE EXACT REPRODUCTIONS OF THE ORIGINAL.
LET ME KNOW IF YOU WANT ONE - I EXPECT THEM TO GO QUICKLY.
June 2016 - Airboxes are available - 2 different sorts. One has the airfilter intake in the normal position, the other has the tube re-aligned for the round barrel engine (it was never correct originally). All have been sold - thinking of making more; awaiting new batch Nov 2017

10 seat bases have gone to the trimmer - first batch sold.
I am thinking of having an airbox made from carbon fibre - anyone interested?
I will make one-off air boxes for 250 and B50 engines.